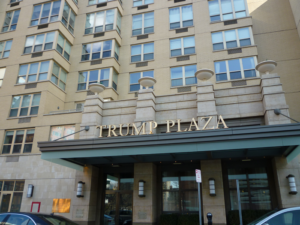 Breaking ground in a few days in Jersey City downtown is Trump Bay Street, a 447 unit rental apartment building which will be located next to Trump Plaza residences at 88 Morgan Street.  The project is a joint effort of Donald Trump's Organization, Kushner Companies – owned by Trump's son-in-law, and KSBR Group of New Jersey.
The Trump Plaza residences, a 55 story condominium Tower at 88 Morgan which was completed 6 years ago is one of the most popular addresses in the Jersey City area.  Its 2013 condo unit sales surpassed all other Jersey City downtown buildings.  Trump Plaza was engineered by Dean Geibel in a licensing deal with Donald Trump.
If you are interested in selling or buying a Jersey City downtown condo call me Janice Hall at 201 232 8577.