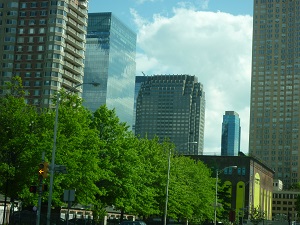 If we compare condo listings new to the market and those that went under contract so far this month, with the number of new listings that went under contract for the same period in May, then it would be safe to say that there is a decline in the number of buyers who are signing on the dotted line to purchase condos in the Jersey City downtown area.  From June 1 thru June 19 this year, forty four condos came on the market, but only 3 of those are DABO under contract.
During the same period last month May 1 thru May 19, twenty one condos came to the market, and 14 of those went under contract.
Despite the apparent slow down in the market, condo prices are still increasing.   Condo # 1908 at 1 Shore Lane, a 925 sq ft, one bed one bath unit, listed at $702 per sq ft earlier this month, is under contract after 9 days on the market.  In the same building unit # 1212 closed yesterday at $685 per sq ft.
Similarly unit # 1004 at Trump Towers 88 Morgan Street, 1152 sq ft, 2 bed 2 bath  listed earlier this month at $660 per sq ft, is now under contract after 2 days on the market.  Unit # 3308 in the building closed earlier this month at $771 per sq ft.
If you need to know more about pricing your Jersey City downtown condo call me Janice Hall at 201 232 8577.